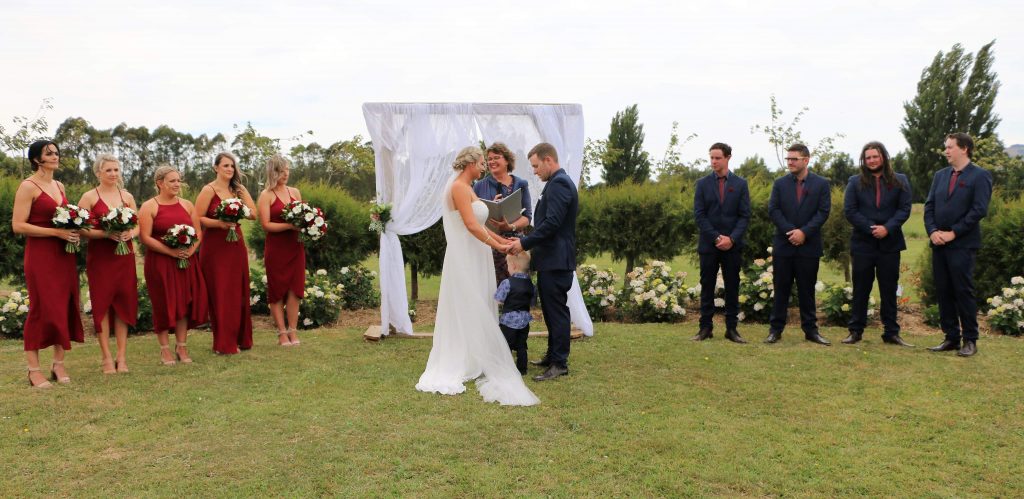 It is wise to book your celebrant around the same time you book your venue, as many of us get booked well in advance, particularly during the 'wedding season'.
You need to have chosen a celebrant before you apply for a marriage licence, as the celebrant's name must be included in the application..
How do you chose a celebrant? There are hundreds of us to choose from – look on the Births Deaths and Marriages website , or the Celebrants Association NZ celebrant page.
When choosing a celebrant there are several questions you might like to consider. Below, I've set out those questions and what I offer.
Am I available for your date?
What do I cost? This varies for the type of ceremony you choose from me:
• Registry
• 'Simple' style
• Personalised wedding.
We will discuss this when we meet.
What does the cost include? It covers our meetings, emails, rehearsal (if you choose a personalised package), writing your ceremony and travel within 15 km of my home, and of course, being there to lead you through your ceremony on your wedding day.
Do I do rehearsals? Absolutely..they are so important and I like to do them the day before so we can get as many of your wedding party present to go through it all.
Do I require a deposit? Yes, that's part of the basic contract I have with you. The deposit saves the date for you.
When is full payment required? Within the wedding week, or prior to that if that helps your budget.
Do I have a sound system? Yes I do
How long have I been a wedding celebrant for? Since 2013. I have taken funerals for several years before that, so am used to being up front and speaking in public.
What do I wear to weddings? I dress to suit your occasion; formal or less formal. I always ask you if there is a colour you wish me to avoid, or a theme dress etc
How many weddings do I take in one day? I only take one full personalised wedding on a day, so it is all about you. More of course if it is a Registry wedding.
How do I feel about wedding ideas? Bring it on. I love to hear your ideas and workout how we can incorporate them. I have loads of ideas about how to make your wedding interactive.
How do I personalise the ceremony? As soon as it suits you after you've confirmed that you'd like me to be the celebrant, we meet for as long as it takes for me to understand your story and ideas. I'll then draft a ceremony which is all about you. I learn about what you want and don't want in your ceremony. I guide you through your vows and explain the legal requirements. I encourage you to write your own vows.
Will you get a ceremony draft? Absolutely. I email everything to you before the ceremony and am happy to adjust to make sure it's perfect for you.
Can I support you in writing your vows? This is part of my job. I encourage you to make them personal but can help you with your ideas.
Do I have wedding reading ideas? I have lots of ideas that I can offer you, but you can also choose whatever you wish.
What happens if I get sick on the day? I am a member of the Celebrant Association and will do my utmost to find a similar like-minded celebrant who will come and take your ceremony.
What is my cancellation policy? Your deposit is non-refundable unless there are circumstances out of your control.
What is the average length of the ceremony? Depending on whether it is a simple wedding, or a personalised package it will be from 20 to 35 minutes approximately. [
How do you choose a celebrant?
When you choose a celebrant, make sure it is someone you can trust on your day. Someone who is your sort of person, so meet with them and get to know them. I love face to face meetings, either in person, or on skype or messenger so we can talk well.
I love traditional or quirky, or somewhere in between. I have done themes and beauty and elopements and escapes. All I require of you is you love your life partner, and we can go from there. I am flexible with ideas. I love hearing about and working with each couples' ideas.
I can recommend florists, photographers, make-up, and hair stylists if you'd like.
Crisis management
Your celebrant needs to be able to stay calm. My ceremonies have been rained and hailed on. I've had grooms forget the rings, had late guests which have held up the ceremony, and crying bridesmaids, and music failures and parents who don't talk to each other getting- together- for -the- first -time since -the- break-up, and candles not lighting, and we have got through it all, often with some laughter. Because this is all about you and your love.
I have excellent communication skills, and stay relaxed, but not so chilled that we don't get the show on the road. Most of all, I listen to you to hear what will make the day special for you.