TESTIMONIALS
Please scroll down to comments to see more testimonials
Celebration of Life for Shirley (89)
if I had to do this again, I would always have Krissy as our celebrant.
Krissy. Thank you so very much. With your caring and encouraging connection to mum over the years, we know she valued that very much. How lucky we were as a family to have your guidance and love over this time.  You listened and made the celebration of mums life come together as mum had wanted. Your kindness and compassion to us all was outstanding Joy & Graeme
I recommend Krissy 100%. she is so considerate, never rushed us, speaks from the heart, and made everyone at ease.  Thank you for everything you did for mum.  You're amazing.  Donna
Krissy was the celebrant at my mother's funeral. Right from the start she made us feel at ease, and made the process so easy.  Her compassion, respect and understanding was so appreciated and Krissy helped us say goodbye in the best possible way. Her words touched us all – if I had to do it again, I would always have Krissy as our celebrant.  she is undoubtedly perfect in this role.  Thank you so much Krissy. Noeline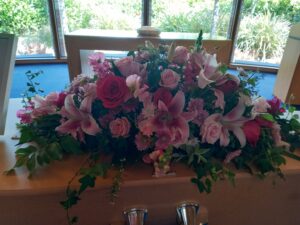 Celebration of Life for Bet (96)
We all felt your compassion all around us
Krissy thank you so much for being our support person through these weeks of coming to terms with losing Mum and all the changes that come with it.  You honoured her so well and we all felt your compassion all around us.  Thank you. Victoria, Marianne, Sarah , Juliet
John (77)
We were speechless and delighted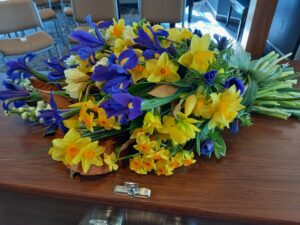 John grew up planting and was a certified organic gardener.  His first flowers he planted were irises.  All different varieties.  So fitting to have them on his casket.  Krissy we were speechless and delighted with how beautiful the flow was that you created for John's funeral. You spent time listening to the families stories, and you are very kind and thoughtful.  People who attended the funeral had only positive comments to make about you.  Thank you so much. The Freeborn family
 Celebration of Life for Marilyn
she pulled them all together into something wonderful
Krissy is a lovely, caring person and produced a beautiful service for our Mum's funeral.  She took all our rambling stories and pulled them all together into something wonderful.  The Schollum family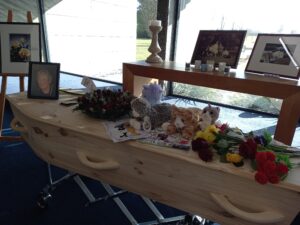 Celebration of Life for Mary (77)
Krissy did an absolutely beautiful funeral service.
Krissy is the most amazing celebrant.  She did an absolutely beautiful funeral service for my Mum.  She took the time to hear all our stories about Mum, and put it all together so wonderfully.  Highly Highly recommended.  Sam and family
Daniel's Last Dance (24 years)
Krissy is incredible.
She was recommended to us through John Rhind funeral directors and within a few hours she met with our whole family and sat with us around our table sharing stories about the tragic loss of our son, and the uniqueness of his life.
Krissy listened, absorbed, advised and guided us.  She captured the essence and spirit of our wonderful son and transformed our grief into a touching, and emotive service.  It was truly special.  She is an assured, sensitive, engaging and inspirational celebrant.  We cannot speak more highly of Krissy, she is incredible. Robyn, Peter, Steve, Jo, Georgie and Will.
Celebration of Life for Annette
Surrounded with flowers from her garden, her pottery, her dog, and family and closest friends we celebrated a beautiful vivacious, independent spirited woman.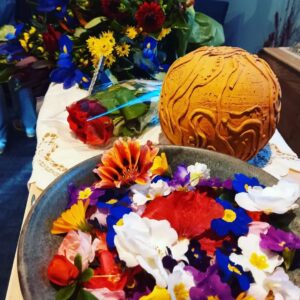 Celebration of Life for Diane Bradley
The service you put together had everything.
We recently had you celebrate our beautiful Mum's life as our celebrant.
As a family we felt truly blessed to have you really spend the time with us all, especially our Dad (who is very vulnerable) and take the time to get to know who our Mum Diane was.
You were able to get information from us all that we wouldn't have thought about.
You encouraged us at a time that it was all a bit blurry and were just so very kind to our Dad.
The service you put together had everything and more caring compassionate, funny and also allowing us to be sad.
We left the service feeling we had given Mum the send off she deserved.
Thank you so much Krissy  Syd, Craig, Sharon , Clare and families.
Celebration of Life for Jack (91)
Married for  68 years and still playing 10 pin bowling every week.  "You couldn't have asked for a better Dad or husband".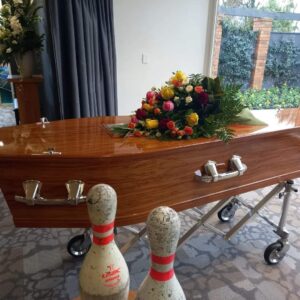 Celebration of Life for Lisa (56)
With a chance in the ceremony to write a note to Lisa, or love, thanks, gratitude, or whatever you needed to say – it was beautiful to have Lisa surrounded with her coffee, flowers, art and love.  Died too soon.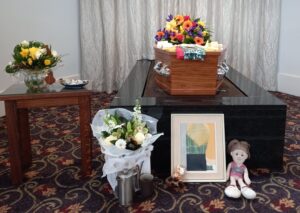 Celebration of life for Dawn (91)
We will treasure the lovely ceremony in our hearts and memories forever.
On behalf of our family Sandra, Yvonne and myself I would like to take this opportunity to pass on our sincere thanks to you for the lovely service you conducted for our dearest Mum, Dawn Lawn. It was ever so special to us all and will be a treasure in our hearts and memories for ever. The Lawn family
Celebration of Life for Diane
You gave us a beautiful ceremony that honoured her and her love.
We are so pleased you knew Diane/Mum.  You gave us a beautiful ceremony that honoured her and her love.   You made a very sad occasion more bearable.  Really appreciated the time and effort you put into Diane's service. Thank  you so much Krissy.  Roger and family
Celebration of Life for our Mum (88 years)
Thank you so much for what you gave us.  An intimate home funeral with her favourite cream sponge, and afternoon tea, after sharing  some of her life stories.  We needed to say our goodbye like this.
Celebration of Life for Roger
You listened so well to us
Roger would have been really happy at how well his celebration of life went. You listened so well to us, and we were able to farewell him, all too soon, with kindness, laughter and reflected his life honestly. Ann
 Celebration of Life for Pat (96)
Compassion, respect and dignity
We loved that you knew Pat, and you were able to speak so well about her and help us all as we farewelled a much loved lady. Krissy guided us through a sad and difficult time following our mother's death, with compassion, respect and dignity.  We would recommend Krissy to any family…she was perfect.   John, Jenny and Rosie
Celebration of Life for Margie (76)
Thank you for all your support.  It was a great send off. Margie would have been very  pleased.  Margie's family
I loved the tributes and all the live music, and open casket. 
Celebration of Life for Raewyn (76)
Thank you for putting together such a beautiful and fitting tribute for Mum.  We were so thrilled you were so helpful in sending our dear Mum and Nana off.  Raewyn's daughters
Celebration of life and burial for Michelle, (56years)
Thanks so much Krissy for listening to us so well, and giving Michelle such a good send off.  She would have been very happy, and is at peace now. Good music and honouring words.  Jason
Celebration of Life and Burial for our Mum (67years)
Invaluable ,impossible to imagine doing it without you, 
Thank you Krissy for your organisation and oversight after Mum's death.  We felt how wonderful it was to have you wrapping your incredible knowledge and care around us.  Invaluable, impossible to imagine doing it without you.  You are exceptionally sweet and did a wonderful job.  You expertly kept the tone, messages, and emotion just right. We will refer you to everyone.  Tim, Sophie, Jessie and Alice.
Jess; Celebration of life (18 years)
You listened to what we wanted and made it happen.
Dear Krissy; Your sensitivity, knowledge and experience was most appreciated at our 18 year old daughters recent memorial service. You made great suggestions that helped her friends acknowledge their grief and provided opportunity for them to process their loss. You helped reflect our daughter's youthful personality and joyful sense of humor.
As her family, you walked beside us during this very sad time, guiding us through the many decisions to be made throughout the entire process. You listened to what we wanted, and you made it happen, incorporating things of meaning to us.
Your follow up after the service is appreciated too. A text or email every now and then, checking in and encouraging us, helps us reflect, remember, and process our sadness.
Our daughter was and is such a blessing to us all.
Thank you for your gift.    Love the Christie family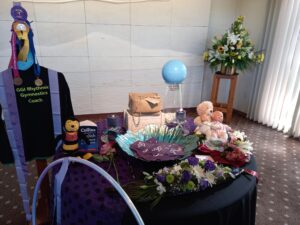 I attended the service for Jess and wanted to let you know you did an outstanding service.  I know how hard these services can be.  Well done!  Kind regards, Linda.
Celebration of Life for Gloria (95 years young)
Krissy helped turn this difficult time into a memorable occasion for us. Her excellent communication skills meant that her attention to detail and determination to get every fact correct were highly valued. She listened patiently to all of our wishes and worked hard right up to the time of the funeral, then delivered a compassionate and flawless celebration of our Mum's life. Gloria's family
Celebration of Life for Shania Rose (22 years old)
It was an amazing send off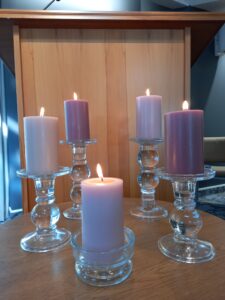 I thought the way you ran Shania's service was excellent.  Obviously, there is sadness, but we did not want the gathering to be a somber affair.  As you said it was a celebration of Shania's life and I think the photos, memories shared, tributes and humour really painted an accurate picture of who Shania is.  Mark (dad)
Thank you for the amazing send off.  I was really happy with how the funeral went.  Your words were fitting and I was impressed by how well you understood her just from what we told you in the meeting with you beforehand. Alex (partner)
Billy (88)
It was a magical funeral, it couldn't have been better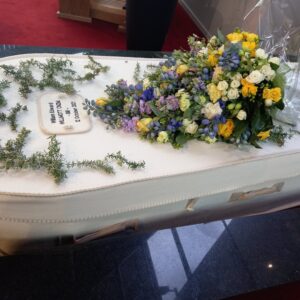 Krissy, thank you so much.   It was a truly magical funeral for my Billy. It couldn't have been better.  The loving friendship you had with him cemented all the words together, with so many positive adjectives, but so many people have said it was one of the best funerals ever.  I cannot thank you enough for the beauty and tranquility that you conducted the funeral with. Thank you, thank you.  Di
Celebration of Life for Marion
We are so glad we had you!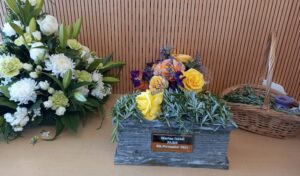 Krissy, we are so glad we had you!  Thanks for everything you did to make a difficult time more bearable.  You were great at teasing out our anecdotes and favourite memories, to give her a genuine tribute.  We have had such great feedback about the service.  In our opinion it was the best funeral ever. Bob, Chris, Nicky and Lyn
Memorial for our beautiful Mum
What you said and did was amazing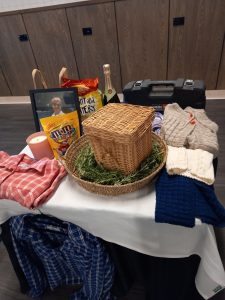 Thank you so much Krissy.  What you said and did was amazing.  We were really happy with how it all went.  it was really special and you  made it so easy for us to just relax and spend time thinking of Mum.  You captured Mum's personality so well and delivered the ceremony with kindness and care, with both sad and happy memories. the Holland daughters
Funeral for our loving Mum.
We have the upmost respect for what you did
Thank you Krissy for the specialist job you made at Zoe's funeral.  We have the upmost respect for what you did.  Thank you for your support and kindness through this sad and emotional time for all of us, and for making Mum's funeral a beautiful and special send off.  We have been singing your praises. The Lane family
Doug
You took a brilliant service Krissy, thank you.  David, Mark and Steve
To take my father-in-laws funeral was an honour.  A man of gentleness and fun, music and family, gardening and food, hence the floral tribute.
Celebration of Life to Pat, our Mum
You gave Mum the send off she always wanted and requested. You captured everything.
A big thank you Krissy for being so much a part of Mum's special day. You coordinated mum's service making it inclusive and meaningful.  You said everything in such a generous way, capturing all the stories that were shared.  You gave Mum the send off she always requested and wanted.  Your knowledge and experience was so helpful when we were in the planning stage, you are very astute and discreet at drawing out the stories and reading between the lines to get the words on paper reflecting exactly who the character was.  It was such a warm personable farewell.  You managed to capture the essence of Mum as a person through our eyes.  You are such a great listener, very calm and you gave us some ideas, but also advice based on what we were thinking of doing.  Thank you for being there and helping us to celebrate the gorgeous lady that mum was.  you captured everything.  The Fraser girls.
 Farewell Celebration of Life for Dagmar
a remarkable send off
Krissy it was a remarkable send off and everything came together perfectly.  You were a big part of it, like a cool and calm Captain sailing your ship through rough waters.  A big thank you from all our family who were watching live stream overseas.
They loved the service, as did we, and it was the next best thing to being there themselves.  It was very sad, touching and professional, which was just perfect for our beloved Dagmar.  Dagmar was a perfectionist, and she would have given us at least 9.5/10.  She never gave a 10!  Christian
floral credit; Kim Chan (the urn surrounded in flowers)
Funeral for our Mum
Calmness, compassion and intuition
Krissy brought so much love  into the celebration of my mother's life at a time when grief was so overwhelming for our family.
As we wanted an intimate and personalised service, Krissy guided us through this together with so much calmness, compassion and intuition , right from the moment we first made contact.
We found that Krissy always made us feel understood, held and supported as she somehow  magically put together  a beautiful ceremony whilst embodying all aspects of the service we were wishing to create, including sensitivity to our different spiritual beliefs within our family .
Krissy has a wonderful and caring nature and we all felt so safe and supported throughout this journey.
The service was perfect and Krissy made it more special than we could ever have imagined it to be, with attention to detail , great communication., and total professionalism.
Krissy, if you can bring this much magic to a funeral ceremony, I can only imagine the magic you  bring to  wedding ceremonies 🙂
Thank you so very much .Stephanie
Celebration of Life for Kristina, My Mum.
Loving, respectful, kind and true
Krissy is wonderful.   She was recently the celebrant for my mother's funeral and also previously for my Granddad and Nana. She has a such a gentle and calming nature, and always took great care at making sure we understood our options and the process.   she is well organised and has great communication.  The services that Krissy has held for my family were all so loving, respectful, kind, and true to the people they were honouring.  More recently, my mum's service, although incredibly heartbreaking was made beautiful with Krissy's help.  Thank you Krissy for making something that is hard at the best of times, just a little bit easier.  I would recommend her to anyone.  Rena
Thank you so much for sending off Dad with so much love.  Joe was so well loved and loving.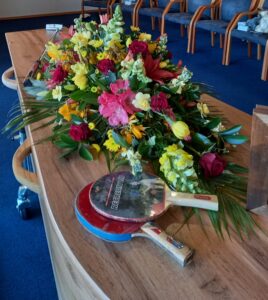 Waimari Beach golf Club was a beautiful space to farewell a keen golfer and it even has a memorial wall and garden.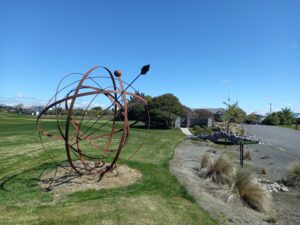 Memorial for Roy
Thank you Krissy for such a wonderful send off for Dad.  Mum was very happy, as were the rest of us.  The sun came out in the end!  Many thanks. Lesley and family
Celebration of Life for Joy
words can't describe how much help you were
"Thank you Krissy.  It was a privilege to have you as our celebrant and if I ever get the chance, I'll be recommending you. You did a fantastic job and words can't describe how much help you were.  I definitely don't think we would have achieved the final outcome that we had, without you". Jason
Funeral for our grandson, Kole. (22years old)
Your choice of words leaves us in awe
"Krissy, where do we start? The feedback we are getting of how professional your service was, and your choice of words at the tragedy of the death of our grandson, leaves us in awe. You were the perfect celebrant for us all. Thank you for listening to us, giving us time and space to do what we chose and needed to do, and comforting us at this time. We also appreciated having a live stream of the service so we could watch and listen when our hearts were not so numb". The Peoples family
Hamilton memorial
We couldn't have done it without you
"What a delightful service.  We couldn't have done it without you.  All those lovely little touches.  Thanks from the bottoms of our hearts.  We treasured all your generosity and love as we farewelled Claude." Kristina
Hunt/Ross family Interment
The ceremony reflected Dad so honestly
"Krissy, you were perfect and the family thought so too.  It was amazing to have a ceremony that reflected Dad so honestly.  big thanks and hugs, it was a really right ceremony."
Funeral for our Dad
Krissy painted the true picture of Dad and his wonderful life.
"I felt blessed to have met Krissy!  Our family cannot thank her enough for the wonderful service she provided as celebrant for our father's recent funeral.  I was over from Melbourne and having been through a very rushed process around the same time last year with our mother's passing, this time I wanted more of a personal touch. We, as a family, chose to have a direct cremation, and to bring Dad's ashes to the ceremony.   I found Krissy through an internet search for Christchurch celebrants and organised to meet with her the next day.  From her welcoming smile and genuine sadness for our loss, I felt completely at ease.  Krissy took the time to find out as much as possible about dad's life and pieced together a wonderful reading incorporating a prayer and committal that we chose together.  The service was faultless!  Many of the guests provided such great feedback, and felt that Krissy painted the 'true' picture of dad and his wonderful life.
I cannot recommend Krissy highly enough, and know she will continue to provide excellence of service with her warm and comforting manner, to assist and support others at a very emotional time."  Alison and family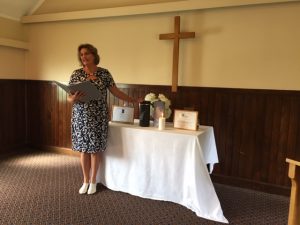 Dad's farewell
We farewelled Dad the best way possible.
"Krissy acknowledged the whole family and our wishes as she helped us celebrate Dad's passing and funeral ceremony. We chose to have an intimate family service, followed by a graveside burial.  She gave us really good ideas to choose from, and supported us in deciding what we wanted. Krissy has a passion to make everyone feel relaxed and at ease, even in a stressful time. She showed respect and made it enjoyable to say goodbye to Dad, as she acknowledged our grief and put how we were feeling into meaningful words. She knows the right way to ask hard questions and draw out our responses in a sensitive and caring way. While remaining professional, Krissy is very real and we felt as if we farewelled Dad the best possible way. Thank you Krissy".  Kathi, Suzanne, Jenny and Lynda.
Funeral for my husband Josh.
I wouldn't have got through the funeral without her.
"Krissy is an amazing, empathetic, gentle and gracious celebrant and I wouldn't have gotten through the funeral of my husband without her kindness and helpful suggestions. We were able to create a funeral that fully reflected his personality and Krissy enabled us to do this with her experience and gentle suggestions. I have had so many people comment on what a great celebrant she was and how she did Josh justice throughout the ceremony. I cant recommended her enough". Michelle
 Funeral for Susan (26 years)
Krissy gave us space to breathe and gather our thoughts, and gave us strength.
"When our daughter died recently, Krissy helped us deal with the unbearable. She was generous with her time and her hugs. We never felt rushed and when it looked like things were getting too much, she gave us space to breathe and gather our thoughts. She took our memories and stories and made them into a unique story of our daughter's life. The funeral service was conducted with kindness and compassion and gave us strength for the ordeal to come". Phil and Julie
celebration of life for Kate
Krissy helped make it just the way we wanted it
"Krissy helped us organise a celebration of my sister's life.  She was kind, caring, and well organised.  Krissy helped us at a very sad time to order our thoughts and helped to make it a time that honoured my sister, just they way we wanted to".  Pene C
Celebration of Life for Dan (21 years)
The celebration of our son's life was amazing
"I'm not sure where to start to say thank you to Krissy – Krissy you are amazing and we can't thank you enough.  When I rang Krissy and told her our 21 year old son had been killed in an accident she was with me and my family in the blink of an eye.  Krissy is compassionate, kind, loving, respectful and organised. Coping with a tragic death leaves you numb and any normal thoughts go out of the window.
Krissy calmly explained what needed to be thought about and organised, she wrote everything down for us so we could digest what was being discussed and be able to make informed decisions. When our minds were a muddle Krissy came to the rescue.  Krissy made calls and found answers to our questions and requests – nothing was too much to ask.  Krissy has been our life line and I'm not sure what we would have done without her.
The celebration of our Son's life was amazing and Krissy ensured the day was exactly how we and our Son would have wanted it to be.  Krissy, thank you for all your support then and your continued support now".  Corrina, James and Phoebe
Funeral for a loved husband and Dad
Relaxed, with tact and warmth, helped put people at ease
"Krissy performed a wonderful service for my husband's memorial.  We really appreciate her planning the service with us, giving advice and options, and crafting the wording to suit our needs.  Krissy was very organised and prompt in your email correspondence.  Her sympathetic and sensitive words at the service  were very comforting and her guidance through it made it flow and stay within the timeframe we preferred.  Her professional yet relaxed  manner, with tact and warmth, helped put people at ease and was very fitting with the less formal, yet respectful style my husband would have preferred.  Krissy ensured that the service was a wonderful celebration of my husband's life.  We are so thankful for her help which made it so much less stressful for us.  So man people commented to us in how well she conducted the service and the lovely way my husband was remembered and honoured". Angela W
Funeral for Dad and Grandad, and husband
People commented it was the best funeral they had been to
"My Dad was such a fun and caring family man so when he passed away we wanted his funeral to reflect that.  Krissy met with our family to make sure she felt she knew him well enough so it would be a fitting farewell.  She was understanding and kind, and her caring guidance was greatly appreciated at such a difficult time.  When she spoke and led the funeral it was absolutely the celebration of a life well-lived that our family wanted and some people even commented that it was the best funeral they had been to.  We can't thank you enough Krissy".  Lynette H
"Krissy's communication with family and professionals is very clear and approachable. She is able to mix with all ages, cultures and social statuses. She makes everyone feel comfortable, is always immaculate in presentation and service".   Michelle (Funeral director)
Memorial for a property and home
"Krissy is an empathetic, straight talking practical woman who is able to see both sides of any situation. She connects well with people of all ages and has a knack of quietly garnering information, to present in a clear, confident and measured way, using humour well. She conducted a memorial service for our friends and neighbours to farewell our red zoned property in 2013, and a family funeral for us". Di Madgin & Bill Willmott CNZM  
"Krissy is sensitive to the needs of others and understands listening skills. She has a warm natural way with people and is able to reach out to a diverse group of people. She is an articulate and confident speaker, and can relate well to her audience, displaying a sense of humour. She makes each celebration personal, meaningful and memorable". Sue B
"Krissy conducts services with compassion, person centered involvement, discernment and wisdom. She is thoughtful and creative in presentation and brings a vitality with her interactions that is sensitive to the situation and people involved". Kathy M
"Krissy's interactions with others are respectful, sensitive and compassionate. She demonstrates the ability to respect other's views on wide range of issues, including religious and spirituality, and responds appropriately in a variety of settings and circumstances. She has a real interest in people and genuine engagement in conversation. Krissy is sensitive and respective, to ensure our views were heard and acted upon. She puts real life and clarity into words, and makes sure a persons life is truly celebrated, supporting and smoothing over family tensions".                Judith Duncan
Funeral for a loved Dad and Poppa
Everything I could wish for, full of laughter and tears, warmth and dignity
"Dad's funeral service was everything I could wish for. With warmth, dignity, compassion and a calm and measured manner, we had a service that was real. lnclusive, full of love, laughter and tears. I am so grateful we were lucky enough to have Krissy co-ordinating, giving it heart and helping to relate a worthy and memorable tribute to my dad. Her ability to read people and see their hearts, her way of gently finding common ground and consensus, of hearing the quieter voices and ultimately leaving everyone feeling worthy and represented, is a real gift indeed". Janna, June 2014