TESTIMONIALS
Please scroll down to comments to see more testimonials
Clementine and Michael
We could not have dreamed of a better celebrant to share this beautiful moment with us
Krissy was a wonderful celebrant to our wedding. She was very professional, took care of everything for us in preparation to the wedding and was very accommodating. We were a little nervous before the ceremony, but Krissy made us feel very comfortable as soon as she arrived. She has a naturally warming voice and smile (which I think is very important for a wedding celebrant), and we could not have dreamed of a better celebrant to share this beautiful moment with us. Thank you again Krissy   Michael & Clementine
Aubrey and Kris
It was very intimate, fantastic, easy and fun.
"We had Krissy as our celebrant for our wedding, she was absolutely amazing and very accommodating. Despite the Covid-19 crisis, she made sure that this event will be wonderful and memorable. It was very intimate, fantastic, easy and fun. We also did not have a hard time communicating with her even though we have given her a short notice about the wedding. Everything was smooth and perfect. " Aubrey & Khris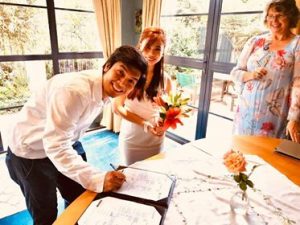 Revona and Sam
It was a beautiful wedding.  Thanks so much for all your help.  You wrote such a beautiful love story about us, and helped us with so many ideas.  It was great to do a Lord of the Rings theme, and have you as our M.C.
Revona and Sam
Photos: Steve Selwood
Dean and Liz
We can't thank you enough Krissy.  You did a great job
Krissy was friendly, down to earth and a very organised celebrant.  She catered our service to suit us and made it special by listening to our stories about one another.
Ashley and Scott
Best day ever!  Was amazing and perfect!
Thanks Krissy. Everything about the ceremony was awesome.  Nothing to improve. Overall you did a fantastic job!
Jess and Joe
Thanks for helping make out wedding day perfect.
We had Krissy as our celebrant for our wedding, she was absolutely fantastic we couldn't recommend enough. She made the whole process easy and fun we couldn't recommend her enough! Thanks for helping make out wedding day perfect.
Photos: Koru Photography
Aileen and Steve
We had the most beautiful day and the ceremony was perfect. We had so many comments about how touching it was. Thank you.
Photos: Maree Jacobs Photography.
Brian and Geela
Definitely more than we could have wished for.
It was a pleasure having you as our wedding celebrant. We definitely had a good time and everyone who came was blessed and touched – so definitely more than we could have wished for.  You were very professional and made our ceremony flow with ease. You were very proactive in communicating and getting to know us and our wishes. We really enjoyed your spontaneous and light hearted responses to our vows, which added a real human dimension to the occasion.  
We would highly recommend you to others!
Courtney and Mike
Krissy, your service was 12 out of 10.
Your service was 12 out of 10! We couldn't have asked for anything better. We loved the rehearsal.  It helped settle our nerves and understand where we needed to be and what to do. Our wedding day ceremony was beyond our expectations.  You 'got us' so well; making it very special for us both.  Your warmth and smile helped keep us settled every step of the way. We loved having you as part of our day.  Thank you.
Photo credit: Steve Selwood Photography
David and Liddy
We couldn't have hoped for it to go any better.
Krissy gave us all the help and guidance we wanted and needed for our ceremony.  It was great to have a rehearsal for both wet and dry wedding options, as wet it was!  We both felt very comfortable and pleased with how everything went – we couldn't have hoped for it to go any better.  Thanks Krissy for all your help!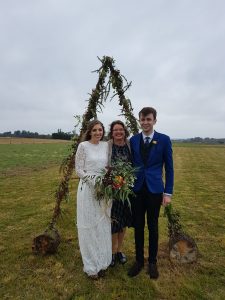 Rachel and Ben
Loved every second of it.  You made us both feel at ease.
We couldn't have asked for anything more. You listened to us and gave us the service we were hoping for.  We are so pleased we found you to be our celebrant.  Loved every second of it.  You made us both feel at ease and explained every step really well.  We had a great day and cannot thank you enough.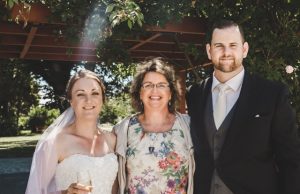 Terra and Matt
Above and beyond our expectations
Krissy was definitely the right choice as a wedding celebrant for us. Her knowledge made sure that everything ran smoothly on the day, and she was flexible enough for us to have a ceremony that reflected us as individuals. Her charisma was infectious, spreading joy and warmth to everyone. After the rehearsal, she even stayed around and helped decorate and cook dinner! She was definitely a true member of the wedding party- most of our guests thought she was an old friend!   Above and beyond our expectations. Thanks so much for everything! Krissy, you were amazing. 
Video credits: http://www.tobiaswulff.photo
Megan and Carl
You're so amazing at what you do
Thanks so much for our wedding.  You're so amazing at what you do 🙂 people kept asking me if you were a friend as they assumed you were because you were so caring and genuine.
photo credit; Steve Selwood photography
Kiri and Dan
Krissy is very warm and accepting.
Krissy married us in November 2018.  This was no easy task!  We were both widowed young and we wanted a ceremony that not only reflected our love but also honoured the legacy of our former spouses.  Krissy is very warm and accepting.  She understood immediately what we wanted and gave us plenty of guidance and ideas, yet the ceremony was still unique to us.  On the day Krissy was very calm and helped everyone feel at ease.  She created a warm and welcoming atmosphere quickly.  We continue to receive comments from our family and friends about how heartfelt the ceremony was and how well Krissy handled the occasion.   We would highly recommend Krissy.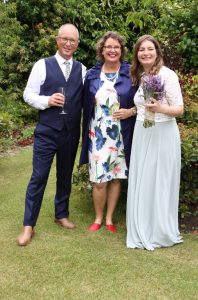 Joe and Tori
You are the best.
Thank you so much for making our day very special. you helped to bring two cultures together in an exciting and fun celebration. you are the best.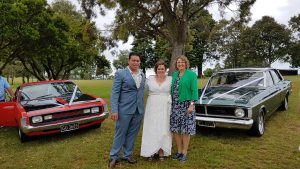 Chris and Kristen
From the moment we met her we knew we made the right choice.
Krissy was just amazing! She really understood what it was we wanted on our special day and was so organised.  She put together a beautiful summary of our relationship together and on the day spoke beautifully and really made us feel at ease.  Even though it wasn't great weather she did grin and bear it with a huge smile on her face and her warm presence.  Thank you so much for everything.
photo credit; Mandy Cauldwell
Katrina and Dave
It really was everything we'd hoped for and wanted.
A friend summed it up for me 'Many weddings focus on structure rather than essence. In ours, the essence of what was meant was of highest significance'. You allowed us the flexibility and confidence to create the wedding we wanted. 
Katy and Karl
Thank you so much for everything on Saturday.  We loved everything and the ceremony went really well.  Glad we managed to hold it together and not cry!
Courtney and Chad
Krissy created a beautiful ceremony from our words and an energy that honored who we are and what we wanted to create.
We had the most wonderful Celebrant for our wedding ceremony, Krissy Christensen. From the first meeting she heard our vision, honored our values, and got to know us through the telling of our story.  It was truly a perfect day!!! Thank you, Krissy for all your talents and contributions to creating our special day. You were a perfect match for us!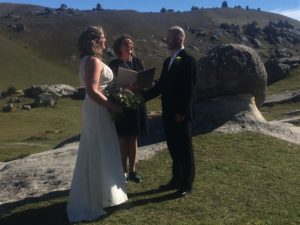 Video and photo credit; Frameboy wedding films
Michelle and Mike
It was great to have  a rehearsal where you relaxed so much! 
Thank you so much for making our day so special.   We are happy to give wonderful feedback!
(Photos courtesy Agnes Grace Photography)
Shannon and Amelia
Thanks you so much for all your help in creating our day.
It wouldn't have been the same without you.
Hannah and Matt
Thank you so much for being a part of our day on Friday. Your easy going, friendly, caring nature certainly made everything seem so much easier than I could have imagined!  
I will DEFINITELY recommend your services to anyone I hear of getting married!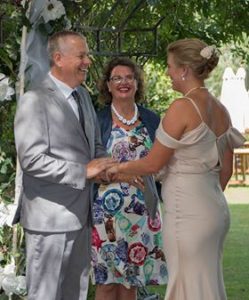 Bobby and Amy
Your guidance and help organising the ceremony was incredible.
Amy and I wanted to thank you for helping to make our wedding day unforgettable. It truly was a special day for us that we will cherish for the rest of our lives. There was a lot more to it than we initially realised. We really appreciate how accommodating you were, taking the time to listen to what we envisaged and helping it take shape. It was an incredible ceremony, filled with love and support. Thank you for being a part of our special day. 
Photo credit; Paul Wilson Photography
Doug and Shay
Thanks  for doing a great job with our wedding ceremony. We absolutely loved its simplicity, sweetness, intimacy, and joyfulness!
Kelly and Michael
It was a great day!  We enjoyed it.  Thanks!
Jacinda and Nathan
We had the best wedding day.  We were so pleased that we were able to stand close together and hold hands throughout our ceremony.  It made the vows seem so much more intimate and special to us.  We were very pleased with how Krissy listened to us and followed our wishes for a short ceremony at the beach with no extra 'fillers' involved.  Thank you Krissy for being our celebrant; we wish we could do it all again!
April and Sam
Thank you so so much for everything you did to make our day so incredible and so special. The ceremony was so lovely and thank you for helping us hold it together. It was an incredibly emotional and special time we will cherish. 
We really appreciate the efforts you went to and will happily recommend you to anyone. 
The printed vows and handmade card were lovely. 
Kieran and Michelle
Krissy was everything we could ask for in a celebrant. She understood that we wanted a no fuss ceremony and ensured we got to have it just the way we wanted it. Krissy was very friendly and approachable and made us feel comfortable. She was very professional and was able to provide us with all the advice we required to ensure the day ran smoothly. She was always available on the phone or email when we had a question. The day ran very smoothly without an issue. I would highly recommend Krissy as a celebrant. 
Isaac and Beth
Our day wouldn't have been the same without Krissy! She gave us the freedom and encouragement to create a ceremony that was unique and special to us, and delivered everything so beautifully. She created a warm and relaxing environment and helped everyone to thoroughly enjoy the day and engage in the service. We were so grateful to have someone that was so genuine and professional with their approach. We felt safe and trusted Krissy with everything she took on! She even helped provide us with the perfect outdoor rug that matched our colour scheme! I highly recommend you book her, pronto!
Honestly Krissy, thanks again for being a part of our day, we can't tell people enough how perfect everything was!
Aaron and Ashleigh
We would like to thank you from the bottom of our hearts for the time and effort you put into the ceremony. Your attention to detail and the ability to put everybody at ease is amazing. Thank you once again.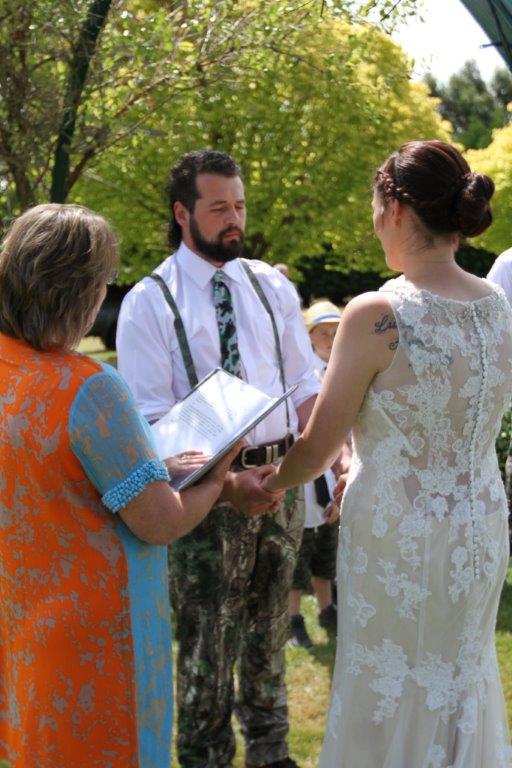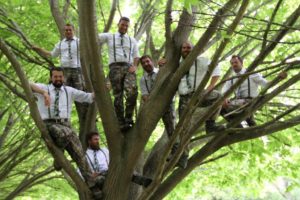 Heather and AJ
Had a fantastic wedding with Heather and AJ at the Kaiapoi Rose Gardens.  Piper, kilts, and poems by friends.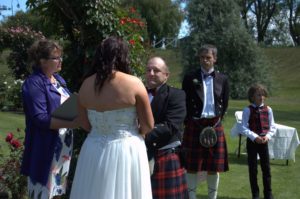 Brent and Corrina
We had a fantastic day and can't thank you enough for the part you played in making our ceremony meaningful and personal to us.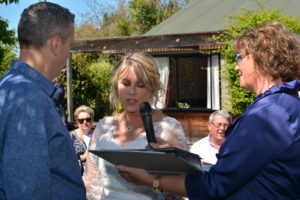 Deb and Dave
Thank you so much for going the extra mile to make our special day perfect for us.  Krissy took the time to listen carefully to us and what we had in mind, and helped us create a wedding that was even better than we imagined.  Our ceremony was warm, joy-filled and fun.  We loved every minute of it and really appreciated everything that Krissy did to make it awesome.  Our family and friends loved her humour and personal touches to make the ceremony about us.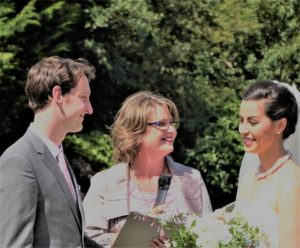 Bonnie and Phil
From the planning stage to the wedding day Krissy's reassuring presence and helpful tips made our ceremony go without a hitch. Her willingness to sit down and help plan a ceremony that suited us a couple took all the stress away. She was attentive to our requests, up for a giggle and kept us calm on the day. Thank you very much for all your time and care. We couldn't have wished for a better celebrant.
Janna and Sam
We  chose Krissy for our celebrant as we knew without a doubt, after having her officiate for my fathers's funeral, that we were in the best possible hands. Our day was absolutely perfect in every way. Krissy is totally unflappable, wonderfully warm and reassuring and has a genuine gift of bringing joy, laughter and inner calm. Committed to being on the same page, Krissy helped us piece together a ceremony that was personal and meaningful, ready with helpful input as and when needed. It was a joyful, teary, relaxed, warm, wonderful wedding and we can't imagine a better person on the planet to take us by the hand and gently guide us through it. We are so very grateful. Thank you Krissy. 
Kevin and Kirsty
My husband Kevin and I were married in January and Krissy was our celebrant. We could not have wished for a better person to play this special part in our day. Right from the first meeting Krissy made it clear that she would make the day how we wanted it to be and took the time to really get to know us. We appreciated that so much and it really made the ceremony so personal.  We had so many lovely comments about her from family and other guests saying what a great job she did, not only in speaking but also the humour and thoughtfulness she put into the words she spoke. Krissy, thank you so much for making our day even more special. We will recommend you to anyone!
Rosamund and David
Stunning and relaxed wedding with Rosamund and David at Langdale winery, West Melton. Thanks for the chance to share with you,
Malcolm and Michelle 
My wife Michelle and I used Krissy Christensen as our marriage celebrant in March and found her outstanding. Her preparation prior to the event was very particular ensuring no detail was left unchecked. She shared valuable information regarding the legal side of things along with insights into the 'little things' we could consider to make the day a fabulous success. She possesses a genuine warmth and interest in people and relates well with all ages making the interaction with the wedding party, in-laws etc. very comfortable and on many occasions, very humorous. We would both highly recommend Krissy to anyone wanting 'the right fit' to arrange their day in style.
Josh and Carol
"Dear Krissy,
Thank you so much for being our celebrant! Your guidance through the planning process was invaluable and very much appreciated. The ceremony was exactly what we wanted and your kind support put us both at ease during what can be a very stressful experience. All of our guests commented on how lovely you were and how neatly you fitted in as a welcome part of the day.
Warm regards and thanks again."
Josh Glue and Carol Randall