How do I get a Wedding Licence in New Zealand?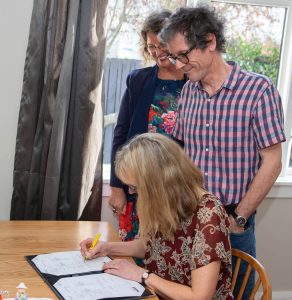 Births Deaths and Marriages (BDM) must issue you a wedding licence. You cannot get married without a licence. The easiest way to get a licence is to order it online.
https://marriages.services.govt.nz – How to get married in New Zealand
To be legally married you are required to:
• not already be married or in a civil union (unless you are marrying the person in that civil union.) If you are changing from a civil union, you need a paper form option.
• Be over 18 years of age, or over 16 and have consent of a Family court Judge. (if 16 or 17 you require a paper form option)
• not be closely related by birth, marriage, or adoption.
If you have been divorced or your former spouse has died, the date of the annulment or your spouse's death need to be entered.
For a marriage licence, BDM require:
• Details about each of the people getting married
• details about the parents of at least one of the people getting married.
• The name of your celebrant, e.g., Krissy Christensen
• the location for the wedding (unless you are having a Registry office wedding). That should include both a wet weather and dry weather option if they are different spaces.
A licence takes up to 3 days to process and is only valid for 3 months from the time of application, so don't order it too soon.
You can choose to have your marriage licence couriered or emailed to you. Or, if you prefer, you can have the licence emailed to me at mark.krissy@xtra.co.nz If you order a hard copy, you will get 2 copies, and a statement of the location of where you are licensed to be married. Always check the details are correct well before your wedding day.
Your celebrant requires all of these forms before you can be married, and I prefer you get these to me at least a week before your wedding. I then take responsibility to get them to the wedding. This is one more thing you to not have to think about on the day. Getting the rings and yourselves there is enough!
You and your witnesses will sign two copies of the marriage licence at the wedding ceremony. I send one copy of the signed licence to the Registry office after the ceremony has taken place and you will have the other copy
If you are wishing to later change your name on your passport and your driver's licence to your new married name, then you will need a marriage certificate as well as the marriage licence. The cost of this is $33.00. It is best to order a marriage certificate at the same time as you order your licence. The marriage certificate will be sent to you after your wedding ceremony.
The process for getting a marriage licence is explained on the BDM website, but if you have any questions please contact me on 0273263958 or the BDM office 0800225252 or +64 4 463 9362 (from overseas).